Categories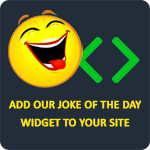 Q. What is a taxidermist's favorite part of Thanksgiving?
A. The stuffing.
Cory
Q: What do elves learn in school?
A: The Elfabet.
Anonymous
Whats the difference between a girls snowman and a boy snowman?

Snowballs!!!!
Jenn
Yo momma is so stupid when I told her Christmas is right around the corner she went looking for it.
Anonymous
What's a turkey's favorite song? "I'm Dreaming of a White Christmas"
Anonymous