Categories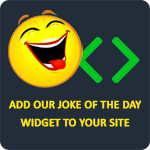 What do you do when 50 zombies surround your house? Hope it's Halloween.
Anonymous
Why did the vampire subscribe to the Wall St Journal? He heard it had great circulation...
Anonymous
Why is Christmas just like a day at the office? You do all the work and the fat guy with the suit gets all the credit.
Anonymous
What do get if you cross a Snowman with a Vampire? Frostbite.
Iamfunnyhaha
Why isn't the turkey hungry at Thanksgiving? Because he's already stuffed!
Anonymous