Categories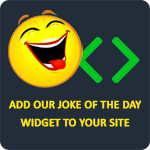 If athletes get athletes foot, what do astronauts get? Missletoe!
Anonymous
Q: What do elves learn in school?
A: The Elfabet.
Anonymous
Q: What's the difference between a snowman and a snowoman?
A: Snowballs!
Jenn
A father and son are out shopping for Christmas presents for their family. The son asks, "What present are my sister and I going to get?" The dad answers, "I got you guys an iPad and iPod." "Wow, thanks," the son replies, "What will you give mom?" The dad says, "Your mom is getting an iRon."
zac bailie
A little kid was out trick-or-treating on Halloween dressed as a pirate. He rang a house's doorbell and the door was opened by a lady. "Oh, how cute! A little pirate! And where are your buccaneers?" she asked. The boy replied, "Under my buckin' hat."
Mark My Words