Categories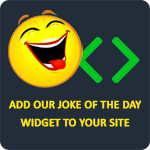 Q: Why did the skeleton cross the road?
A: To get to the body shop.
Lucyfaith16
If athletes get athletes foot, what do astronauts get? Missletoe!
Anonymous
Q: What do elves learn in school?
A: The Elfabet.
Anonymous
Q: Can February march?
A: No, but April may.
brock
Q: What's the difference between a snowman and a snowoman?
A: Snowballs!
Jenn