Categories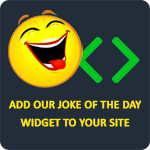 Q: Why did the skeleton cross the road?
A: To get to the body shop.
Lucyfaith16
Why is Christmas just like a day at the office? You do all the work and the fat guy with the suit gets all the credit.
Anonymous
Q: If April showers bring may flowers, what do mayflowers bring?
A: Pilgrims!
Anonymous
If athletes get athletes foot, what do astronauts get? Missletoe!
Anonymous
Q: What does a skeleton order at a restaurant?
A: Spare ribs!
cupcake22