Categories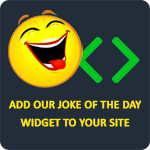 Yo momma is so stupid when I told her Christmas is right around the corner she went looking for it.
Anonymous
Q: Why did the skeleton cross the road?
A: To get to the body shop.
Lucyfaith16
Q: If April showers bring may flowers, what do mayflowers bring?
A: Pilgrims!
Anonymous
Yo momma is so short, when she went to meet Santa he said, "Go back to work!"
Te Nui-a-Rangi
A little kid was out trick-or-treating on Halloween dressed as a pirate. He rang a house's doorbell and the door was opened by a lady. "Oh, how cute! A little pirate! And where are your buccaneers?" she asked. The boy replied, "Under my buckin' hat."
Mark My Words