Categories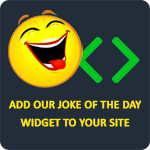 Q: If April showers bring may flowers, what do mayflowers bring?
A: Pilgrims!
Anonymous
Mother: "Sweetie, make a Christmas wish."
Girl: "I wish that Santa will send some clothes to those naked girls in papa's computer."
Gerome
What do you do when 50 zombies surround your house? Hope it's Halloween.
Anonymous
Yo momma is so short, when she went to meet Santa he said, "Go back to work!"
Te Nui-a-Rangi
Q: Why are ghosts bad liars?
A: You can see right through them.
Capricorn37