Categories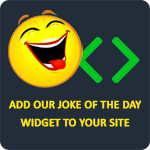 Why did the vampire subscribe to the Wall St Journal? He heard it had great circulation...
Anonymous
Why did the skeleton go to the BBQ? To get some spare ribs!
kaitlinlenick23
Where do polar bears vote? The North Poll.
Anonymous
What do you do when 50 zombies surround your house? Hope it's Halloween.
Anonymous
On New Year's Eve, a woman stood up at a local pub and said it was time to get ready for the midnight countdown. At the stroke of midnight, she wanted every husband to stand next to the one person who made his life worth living. As the clock struck midnight, the bartender was almost crushed to death.
Anonymous