Categories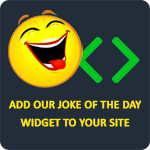 Yo momma is so stupid when I told her Christmas is right around the corner she went looking for it.
Anonymous
Q: Why are ghosts bad liars?
A: You can see right through them.
Capricorn37
Mother: "Sweetie, make a Christmas wish."
Girl: "I wish that Santa will send some clothes to those naked girls in papa's computer."
Gerome
Why isn't the turkey hungry at Thanksgiving? Because he's already stuffed!
Anonymous
Q: Why do pilgrims pants fall down?
A: Because their belts are on their hats.
Anonymous