Categories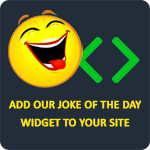 Yo momma is so short, when she went to meet Santa he said, "Go back to work!"
Te Nui-a-Rangi
Mother: "Sweetie, make a Christmas wish."
Girl: "I wish that Santa will send some clothes to those naked girls in papa's computer."
Gerome
Q: If April showers bring may flowers, what do mayflowers bring?
A: Pilgrims!
Anonymous
What do you do when 50 zombies surround your house? Hope it's Halloween.
Anonymous
Q: Why are ghosts bad liars?
A: You can see right through them.
Capricorn37