Categories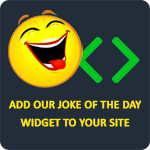 Why is Santa Claus so jolly? Because he knows where all the naughty girls live.
Anonymous
What do you do when 50 zombies surround your house? Hope it's Halloween.
Anonymous
Q: Why are ghosts bad liars?
A: You can see right through them.
Capricorn37
Why isn't the turkey hungry at Thanksgiving? Because he's already stuffed!
Anonymous
A little kid was out trick-or-treating on Halloween dressed as a pirate. He rang a house's doorbell and the door was opened by a lady. "Oh, how cute! A little pirate! And where are your buccaneers?" she asked. The boy replied, "Under my buckin' hat."
Mark My Words