Categories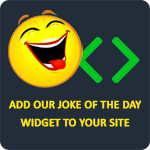 Why don't witches wear panties? So they can get a better grip on the broom!
ekalland
Q: What is the difference between Tiger Woods and Santa Claus?
A: Santa stops after three hos.
Brandon Lewis
Q: Why is Santa Claus' sack so big? A: He only comes once a year.
Ms. Wood
Why is Santa Claus so jolly? Because he knows where all the naughty girls live.
Anonymous
What do you do when 50 zombies surround your house? Hope it's Halloween.
Anonymous