Categories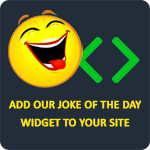 A man tells his wife, "Honey, your mom fell down the stairs 15 minutes ago." The wife yells at him, "Why are you just telling me now?" He said, "Because I couldn't stop laughing."
lulugabs
A young boy comes home from school in a bad mood. His father asks him, "What's wrong, son?" The kid tells his dad that he's upset because another kid has been teasing him and calling him gay. The father says, "Punch him in the face next time he does that. I bet he'll stop." The kid replies, "Yeah, but he's so cute!"
MaryConcetta
Little Billy came home from school to see the family's pet rooster dead in the front yard. Rigor mortis had set in and it was flat on its back with its legs in the air. When his Dad came home, Billy mentioned, "Dad, our rooster is dead and his legs are sticking in the air. Why are his legs like that?" His father, thinking quickly, said, "Son, that's so God can reach down from the clouds and lift the rooster straight up to heaven." "Gee Dad, that's great," said little Billy. A few days later, when Dad came home from work, Billy rushed out to meet him yelling, "Dad! Dad, we almost lost Mom today!" "What do you mean?" asked his father. "Well Dad, I got home from school early today and went up to your bedroom and there was Mom, flat on her back with her legs in the air, screaming, 'Jesus, I'm coming! I'm coming!' If it hadn't of been for Uncle George holding her down, we'd have lost her for sure!"
deemartinez
There are five cows on a farm, one mamma cow and four baby calves. The first baby walks up to the mom and asks, "Momma, why is my name Rose?" The mommy cow replies, "Well honey, a rose petal fell on your head when you were born." The next calf comes up and asks, "Momma, why is my name Lily?" The mother replies, "Because honey, a lily petal fell on your head when you were born." The third baby comes up and asks, "Momma, why is my name Daisy?" The momma cow again replieds" Well, when you were born a daisy petal fell on your head." The final baby walks over and says, "Duh huh guh nuh!" The momma cow says, "Shut up, Cinderblock."
HAHA
Three brothers wanted to give their blind mom a birthday gift. The first got her a big beautiful house. The second got her a brand new luxury vehicle with a driver. The third got her a talking parrot to keep her company. When they all got together, they wanted to know which gift she liked best. She said they were all great but she thanked her third son because she liked the chicken dinner best.
twicks50