Categories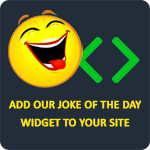 Dad: "Can I see your report card, son?"
Son: "I don't have it."
Dad: "Why?"
Son: "I gave it to my friend. He wanted to scare his parents."
Anonymous
Mother: "Are you talking back to me?!"
Son: "Well yeah, that's kinda how communication works."
Anonymous
A young boy comes home from school in a bad mood. His father asks him, "What's wrong, son?" The kid tells his dad that he's upset because another kid has been teasing him and calling him gay. The father says, "Punch him in the face next time he does that. I bet he'll stop." The kid replies, "Yeah, but he's so cute!"
MaryConcetta
A mother said to her son, "Look at that kid over there; he's not misbehaving." The son replied, "Maybe he has good parents then!"
Anonymous
Maria, a devout Catholic, got married and had 15 children. After her first husband died, she remarried and had 15 more children. A few weeks after her second husband died, Maria also passed away. At Maria's funeral, the priest looked skyward and said, "At last, they're finally together." Her sister sitting in the front row said, "Excuse me, Father, but do you mean she and her first husband, or she and her second husband?" The priest replied, "I mean her legs."
Otto Stewart