Categories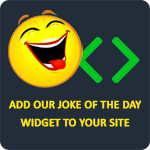 A wife comes home late one night and quietly opens the door to her bedroom. From under the blanket, she sees four legs instead of just her husband's two. She reaches for a baseball bat and starts hitting the blanket as hard as she can. Once she's done, she goes to the kitchen to have a drink. As she enters, she sees her husband there, reading a magazine. He says, "Hi darling, your parents have come to visit us, so let them stay in our bedroom. Did you say hello?"
Eddie k
Q: How do you make a tissue dance?
A: Put a little boogie in it.
make people laugh
There are five cows on a farm, one mamma cow and four baby calves. The first baby walks up to the mom and asks, "Momma, why is my name Rose?" The mommy cow replies, "Well honey, a rose petal fell on your head when you were born." The next calf comes up and asks, "Momma, why is my name Lily?" The mother replies, "Because honey, a lily petal fell on your head when you were born." The third baby comes up and asks, "Momma, why is my name Daisy?" The momma cow again replieds" Well, when you were born a daisy petal fell on your head." The final baby walks over and says, "Duh huh guh nuh!" The momma cow says, "Shut up, Cinderblock."
HAHA
A father passing by his son's bedroom, was astonished to see the bed was nicely made, and everything was picked up. Then, he saw an envelope, propped up prominently on the pillow. It was addressed, "Dad." With the worst premonition, he opened the envelope and read the letter, with trembling hands...

"Dear, Dad. It is with great regret and sorrow that I'm writing you. I had to elope with my new girlfriend, because I wanted to avoid a scene with Mum and you.
I've been finding real passion with Stacy, and she is so nice, but I knew you would not approve of her because of her piercings, tattoos, tight motorcycle clothes, and because she is so much older than I am.
But it's not only the passion, Dad. She's pregnant. Stacy said that we will be very happy. She owns a trailer in the woods, and has a stack of firewood for the whole winter. We share a dream of having many more children.
Stacy has opened my eyes to the fact that marijuana doesn't really hurt anyone. We'll be growing it for ourselves, and trading it with the other people in the commune, for all the cocaine and ecstasy we want.
In the meantime, we'll pray that science will find a cure for AIDS, so Stacy can get better. She sure deserves it!
Don't worry, Dad. I'm 15, and I know how to take care of myself. Someday, I'm sure we'll be back to visit, so you can get to know your many grandchildren.
Love, your son, Joshua.
P.S. Dad, none of the above is true. I'm over at Jason's house. I just wanted to remind you that there are worse things in life than the school report that's on the kitchen table. Call when it is safe for me to come home!
Legolas Greenleaf
A husband got his mother-in-law a cemetery plot for Christmas. It came with a coffin, tomb stone, the works. Next Christmas comes by and the husband gets her nothing. When the mother-in-law asks, "Why didn't you get me a gift?" the husband says, "You haven't used the one I got you last year!"
Squishy1717