Categories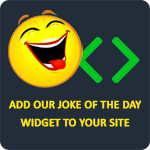 Little Johnny came home from school and heard the word "b*tch." He asks his mom what the word meant and she responds, "It means priest." The next day little Johnny comes home and hears the word "sh*t" and asks his dad what it means. His dad answers, "It means food on the table." At school, he hears the word "f*cking" and asks his mom what it means. She responds, "It means getting ready." The next day a priest came over for dinner and little Johnny opened the door and says, "Hey son of a b*tch. There's sh*t on the table and my parents are upstairs f*cking!"
gabbylove
Assistant: "Sir, can I have a day off next week to visit my mother-in-law?"
Boss: "Certainly not!"

Assistant: "Thank you so much sir! I knew you would be understanding."
TheLaughFactory
A husband and wife have four boys. The odd part of it is that the older three have red hair, light skin, and are tall, while the youngest son has black hair, dark eyes, and is short. The father eventually takes ill and is lying on his deathbed when he turns to his wife and says, "Honey, before I die, be completely honest with me. Is our youngest son my child?" The wife replies, "I swear on everything that's holy that he is your son." With that, the husband passes away. The wife then mutters, "Thank God he didn't ask about the other three."
dglien39
A husband got his mother-in-law a cemetery plot for Christmas. It came with a coffin, tomb stone, the works. Next Christmas comes by and the husband gets her nothing. When the mother-in-law asks, "Why didn't you get me a gift?" the husband says, "You haven't used the one I got you last year!"
Squishy1717
A kid walks up to his mom and asks, "Mom, can I go bungee jumping?" The mom says "No, you were born from broken rubber and I don't want you to go out the same way!"
Anonymous