Categories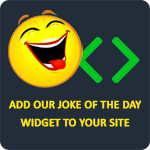 A boy is selling fish on a corner. To get his customers' attention, he is yelling, "Dam fish for sale! Get your dam fish here!" A pastor hears this and asks, "Why are you calling them 'dam fish.'" The boy responds, "Because I caught these fish at the local dam." The pastor buys a couple fish, takes them home to his wife, and asks her to cook the dam fish. The wife responds surprised, "I didn't know it was acceptable for a preacher to speak that way." He explains to her why they are dam fish. Later at the dinner table, he asks his son to pass the dam fish. He responds, "That's the spirit, Dad! Now pass the f*cking potatoes!"
bandajoey92
A little girl is serving her father tea while her mother is out shopping. The mother comes home and the father says, "Watch this!" The little girl goes and serves the mother tea. The mother responds, "Did it ever occur to you that the only place she can reach to get water is the toilet?"
WhiteHawk
A young man goes into a drug store to buy condoms. The pharmacist tells him that the condoms come in packs of three, nine, or 12, and asks which ones the young man wants. "Well," he says, "Ive been seeing this girl for a while and she's really hot. I want the condoms because I think tonight's the night. We're having dinner with her parents and then we're going out. Once she's had me, she'll want me all the time, so you'd better give me the 12 pack!" The young man makes his purchase and leaves. Later that evening, he sits down to dinner with his girlfriend and her parents. He asks if he may give the blessing and they agree. He begins the prayer, but continues praying for several minutes. The girl leans over and says, "You never told me that you were such a religious person." He leans over to her and says, "You never told me that your father is a pharmacist."
ocastro
A young boy comes home from school in a bad mood. His father asks him, "What's wrong, son?" The kid tells his dad that he's upset because another kid has been teasing him and calling him gay. The father says, "Punch him in the face next time he does that. I bet he'll stop." The kid replies, "Yeah, but he's so cute!"
MaryConcetta
I want to die peacefully in my sleep, like my grandfather. Not screaming and yelling like the passengers in his car.
Anonymous