Categories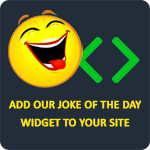 A group of fathers are sitting around talking about their teenage daughters. One dad says, " I think my 16 year old is smoking; I found a empty cigarette pack under her bed." All the other fathers say in unison, "Oh no!" Then a second dad says, "That's nothing. I found an empty liquor bottle under my 16 year old's bed." All the other fathers say in unison, "Oh dear!" Then a third dad says, "Mine's worse than both of those combined: I went into my 16 year old daughter's room and found a used condom." All the other fathers say in unison, "Jesus Christ!" The third father replies "Yeah, I didn't know she had a dick!"
josh.p. :)
A boy is selling fish on a corner. To get his customers' attention, he is yelling, "Dam fish for sale! Get your dam fish here!" A pastor hears this and asks, "Why are you calling them 'dam fish.'" The boy responds, "Because I caught these fish at the local dam." The pastor buys a couple fish, takes them home to his wife, and asks her to cook the dam fish. The wife responds surprised, "I didn't know it was acceptable for a preacher to speak that way." He explains to her why they are dam fish. Later at the dinner table, he asks his son to pass the dam fish. He responds, "That's the spirit, Dad! Now pass the f*cking potatoes!"
bandajoey92
Mother: "Are you talking back to me?!"
Son: "Well yeah, that's kinda how communication works."
Anonymous
Wife: "In my dream, I saw you in a jewelry store and you bought me a diamond ring."
Husband: "I had the same dream and I saw your dad paying the bill."
Anonymous
Little Johnny likes to gamble. One day, his dad gets a new job, so his family has to move to a new city. Johnny's dad thinks, "I'll get a head start on Johnny's gambling." He calls the teacher and says, "My son Johnny will be starting your class tomorrow, but he likes to gamble, so you'll have to keep an eye on him." The teacher says, "Okay," because she can handle it. The next day, Johnny walks into class and hands the teacher an apple and says, "Hi, my name is Johnny." She says, "Yes, I know who you are." Johnny smiles and says, "I bet you $10 you've got a mole on your butt." The teacher thinks that she will break his little gambling problem, so she takes him up on the bet. She pulls her pants down, shows him her butt, and there is no mole. That afternoon, Johnny goes home and tells his dad that he lost $10 to the teacher and explains why. His dad calls the teacher and says, "Johnny said that he bet you that you had a mole on your butt and he lost." The teacher says, "Yeah, and I think I broke his gambling problem." Johnny's dad laughs and says, "No you didn't, he bet me $100 this morning that he'd see your ass before the day was over."
Whiskey2011