Categories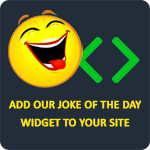 Little Billy came home from school to see the family's pet rooster dead in the front yard. Rigor mortis had set in and it was flat on its back with its legs in the air. When his Dad came home, Billy mentioned, "Dad, our rooster is dead and his legs are sticking in the air. Why are his legs like that?" His father, thinking quickly, said, "Son, that's so God can reach down from the clouds and lift the rooster straight up to heaven." "Gee Dad, that's great," said little Billy. A few days later, when Dad came home from work, Billy rushed out to meet him yelling, "Dad! Dad, we almost lost Mom today!" "What do you mean?" asked his father. "Well Dad, I got home from school early today and went up to your bedroom and there was Mom, flat on her back with her legs in the air, screaming, 'Jesus, I'm coming! I'm coming!' If it hadn't of been for Uncle George holding her down, we'd have lost her for sure!"
deemartinez
A little girl is serving her father tea while her mother is out shopping. The mother comes home and the father says, "Watch this!" The little girl goes and serves the mother tea. The mother responds, "Did it ever occur to you that the only place she can reach to get water is the toilet?"
WhiteHawk
A hillbilly family's only son saves up money to go to college. After about three years, he comes back home. They are sitting around the dinner table, when the dad says, ''Well son, you done gone to college, so you must be perty smart. Why don't you speak some math fer' us?'' ''Ok, Pa.'' The son then says, ''Pi R squared.'' After a moment, the dad says, ''Why son, they ain't teached ya nothin'! Pie are round, cornbread are square.''
aashok
A young boy comes home from school in a bad mood. His father asks him, "What's wrong, son?" The kid tells his dad that he's upset because another kid has been teasing him and calling him gay. The father says, "Punch him in the face next time he does that. I bet he'll stop." The kid replies, "Yeah, but he's so cute!"
MaryConcetta
"Johnny, why did you kick your brother in the stomach?" exclaimed the angry mother. "It was pure accident, Mama. He turned around."
TheLaughFactory