Categories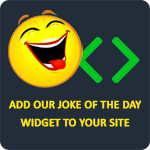 One day Jimmy got home early from school and his mom asked, "Why are you home so early?" He answered, "Because I was the only one that answered a question in my class." She said, "Wow, my son is a genius. What was the question?" Jimmy replied, "The question was 'Who threw the trash can at the principal's head?'"
Anonymous
A 3 years old boy sits near a pregnant woman.
Boy: Why do you look so fat?
Pregnant woman: I have a baby inside me.
Boy: Is it a good baby?
Pregnant woman: Yes, it is a very good baby.
Boy: Then why did you eat it?!
Mo
A wealthy man was having an affair with an Italian woman for a few years. One night, during one of their rendezvous, she confided in him that she was pregnant. Not wanting to ruin his reputation or his marriage, he paid her a large sum of money if she would go to Italy to have the child. If she stayed in Italy, he would also provide child support until the child turned 18. She agreed, but wondered how he would know when the baby was born. To keep it discrete, he told her to mail him a postcard, and write "Spaghetti" on the back. He would then arrange for child support. One day, about 9 months later, he came home to his confused wife. "Honey," she said, "you received a very strange postcard today." "Oh, just give it to me and I'll explain it later," he said. The wife handed the card over and watched as her husband read the card, turned white, and fainted. On the card was written "Spaghetti, Spaghetti, Spaghetti. Two with meatballs, one without."
89321117
There is a senior citizen driving on the highway. His wife calls him on his cell phone and in a worried voice says, ''Herman, be careful! I just heard on the radio that there is a madman driving the wrong way on Route 280!'' Herman says, ''I know, but there isn't just one, there are hundreds!''
nngriffin
A wife comes home late one night and quietly opens the door to her bedroom. From under the blanket, she sees four legs instead of just her husband's two. She reaches for a baseball bat and starts hitting the blanket as hard as she can. Once she's done, she goes to the kitchen to have a drink. As she enters, she sees her husband there, reading a magazine. He says, "Hi darling, your parents have come to visit us, so let them stay in our bedroom. Did you say hello?"
Eddie k