Categories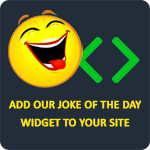 A wife comes home late one night and quietly opens the door to her bedroom. From under the blanket, she sees four legs instead of just her husband's two. She reaches for a baseball bat and starts hitting the blanket as hard as she can. Once she's done, she goes to the kitchen to have a drink. As she enters, she sees her husband there, reading a magazine. He says, "Hi darling, your parents have come to visit us, so let them stay in our bedroom. Did you say hello?"
Eddie k
A group of fathers are sitting around talking about their teenage daughters. One dad says, " I think my 16 year old is smoking; I found a empty cigarette pack under her bed." All the other fathers say in unison, "Oh no!" Then a second dad says, "That's nothing. I found an empty liquor bottle under my 16 year old's bed." All the other fathers say in unison, "Oh dear!" Then a third dad says, "Mine's worse than both of those combined: I went into my 16 year old daughter's room and found a used condom." All the other fathers say in unison, "Jesus Christ!" The third father replies "Yeah, I didn't know she had a dick!"
josh.p. :)
There is a senior citizen driving on the highway. His wife calls him on his cell phone and in a worried voice says, ''Herman, be careful! I just heard on the radio that there is a madman driving the wrong way on Route 280!'' Herman says, ''I know, but there isn't just one, there are hundreds!''
nngriffin
Dad: "Can I see your report card, son?"
Son: "I don't have it."
Dad: "Why?"
Son: "I gave it to my friend. He wanted to scare his parents."
Anonymous
A boy asks his father, "Dad, are bugs good to eat?" "That's disgusting. Don't talk about things like that over dinner," the dad replies. After dinner the father asks, "Now, son, what did you want to ask me?" "Oh, nothing," the boy says. "There was a bug in your soup, but now it's gone."
John Ocallaghan