Categories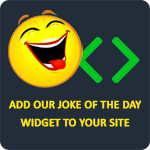 A man buys a lie detector robot that slaps people who lie. He decides to test it at dinner. He asks his son, "Son, where were you today during school hours?" "At school." The robot slaps the son. "Okay, I went to the movies!" The father asks, "Which one?" "Harry Potter." The robot slaps the son again. "Okay, I was watching porn!" The father replies, "What? When I was your age I didn't even know what porn was!" The robot slaps the father. The mom chimes in, "Haha! After all, he is your son!" The robot slaps the mother.
ikennaroger
Wife: "I look fat. Can you give me a compliment?"
Husband: "You have perfect eyesight."
coloured pencils
An elderly couple was attending church services. About halfway through she leans over and says to her husband. "I just let out a silent fart. What do you think I should do?" He replies, "Put a new battery in your hearing aid."
TheLaughFactory
I want to die peacefully in my sleep, like my grandfather. Not screaming and yelling like the passengers in his car.
Anonymous
A young man goes into a drug store to buy condoms. The pharmacist tells him that the condoms come in packs of three, nine, or 12, and asks which ones the young man wants. "Well," he says, "Ive been seeing this girl for a while and she's really hot. I want the condoms because I think tonight's the night. We're having dinner with her parents and then we're going out. Once she's had me, she'll want me all the time, so you'd better give me the 12 pack!" The young man makes his purchase and leaves. Later that evening, he sits down to dinner with his girlfriend and her parents. He asks if he may give the blessing and they agree. He begins the prayer, but continues praying for several minutes. The girl leans over and says, "You never told me that you were such a religious person." He leans over to her and says, "You never told me that your father is a pharmacist."
ocastro