Categories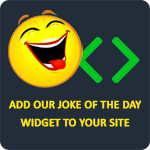 A man buys a lie detector robot that slaps people who lie. He decides to test it at dinner. He asks his son, "Son, where were you today during school hours?" "At school." The robot slaps the son. "Okay, I went to the movies!" The father asks, "Which one?" "Harry Potter." The robot slaps the son again. "Okay, I was watching porn!" The father replies, "What? When I was your age I didn't even know what porn was!" The robot slaps the father. The mom chimes in, "Haha! After all, he is your son!" The robot slaps the mother.
ikennaroger
A wealthy man was having an affair with an Italian woman for a few years. One night, during one of their rendezvous, she confided in him that she was pregnant. Not wanting to ruin his reputation or his marriage, he paid her a large sum of money if she would go to Italy to have the child. If she stayed in Italy, he would also provide child support until the child turned 18. She agreed, but wondered how he would know when the baby was born. To keep it discrete, he told her to mail him a postcard, and write "Spaghetti" on the back. He would then arrange for child support. One day, about 9 months later, he came home to his confused wife. "Honey," she said, "you received a very strange postcard today." "Oh, just give it to me and I'll explain it later," he said. The wife handed the card over and watched as her husband read the card, turned white, and fainted. On the card was written "Spaghetti, Spaghetti, Spaghetti. Two with meatballs, one without."
89321117
There is a senior citizen driving on the highway. His wife calls him on his cell phone and in a worried voice says, ''Herman, be careful! I just heard on the radio that there is a madman driving the wrong way on Route 280!'' Herman says, ''I know, but there isn't just one, there are hundreds!''
nngriffin
In a Catholic school cafeteria, a nun places a note in front of a pile of apples, "Only take one. God is watching." Further down the line is a pile of cookies. A little boy makes his own note, "Take all you want. God is watching the apples."
pinktabby
Mr. and Mrs. Brown had two sons. One was named Mind Your Own Business & the other was named Trouble. One day the two boys decided to play hide and seek. Trouble hid while Mind Your Own Business counted to one hundred. Mind Your Own Business began looking for his brother behind garbage cans and bushes. Then he started looking in and under cars until a police man approached him and asked, "What are you doing?" "Playing a game," the boy replied. "What is your name?" the officer questioned. "Mind Your Own Business." Furious the policeman inquired, "Are you looking for trouble?!" The boy replied, "Why, yes."
Anonymous