Categories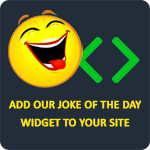 Q: What happens when you stick your hand in a jar of jelly beans?
A: The black one steals your watch.
orozcom
A priest is sitting in a confession box and has to go to the bathroom. He calls an alter boy over and says, "I have to go pee and I need you to take over." Not knowing what to do, the alter boy asks for help. The priest says, "Just give them a few Hail Marys and send them on their way." Soon after, a blonde woman walks in the booth and says, "Forgive me father. I have committed a sin. I gave my boyfriend a blowjob." The alter boy is confused, so he asks another nearby alter boy, "What does the priest usually give for a blowjob?" The second alter boy replies, "I don't know about you, but my price is a candy bar and a Pepsi."
Hebrew Special
How do Mexicans take a family portrait? They all gather together on the back of a pickup truck and run a red light!
staciebean2007
What is the difference between Jesus, and a picture of Jesus? You can hang the picture with just one nail.
Epicurus
There's a man walking a tight rope 60 feet above ground. There's another man getting a bl*wjob from a 60 year old woman. What are they both thinking at the exact same time? Don't look down, don't look down, don't look down, don't look down!
bella404