Categories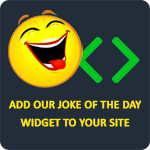 Q: How do Chinese people name their babies?
A: They throw them down the stairs to see what noise they make.
Anonymous
Q: What's the difference between a Jew and a boy scout?
A: A boy scout comes home from camp.
Anonymous
Little Sally came home from school with a smile on her face, and told her mother, "Frankie Brown showed me his weenie today at the playground!" Before the mother could raise a concern, "Sally went on to say, "It reminded me of a peanut." Relaxing with a hidden smile, Sally's mom asked, "Really small, was it?" Sally replied, "No, salty." Mom fainted.
ezmoney
How do you starve a black person? Put their food stamp card under their workboots!
Anonymous
I was at my bank today waiting in a short line. There was just one lady in front of me, an Asian lady, who was trying to exchange yen for dollars. It was obvious she was a little irritated. She asked the teller, "Why it change? Yesterday, I get two hunat dolla of yen. Today I only get hunat eighty? Why it change?" The teller shrugged his shoulders and said, "Fluctuations." The Asian lady says, "Fluc you white people too!"
deanjchou