Categories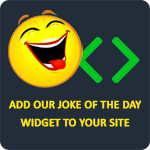 A brunette goes into a doctor's office and says that her body hurts wherever she touches it. "Impossible," says the doctor. "Show me." She takes her finger, presses on her elbow, and screams in agony. She pushes her knee and screams, pushes her ankle and screams, and so it goes on; everywhere she touches makes her scream with pain. The doctor says, "You're not really a brunette are you?" She says, "No, I dyed my hair. I'm naturally blonde." "I thought so," he says. "Your finger is broken."
A Blonde
How do you confuse a blonde? Put her in a circle and tell her to go to the corner.
Anonymous
A blonde is watching the news with her husband when the newscaster says, "Six Brazilian men die in a skydiving accident." The blonde starts crying to her husband, sobbing, "That's horrible!" Confused, he replies, "Yes Dear, it is sad, but they were skydiving, and there is always that risk involved." After a few minutes, the blonde, still sobbing, says, "How many is a Brazilian?"
jibyjacob41
How can you tell when a brunette is actually a blonde who dyes her hair? When she trips over the cordless phone.
catgirl517
How did the blonde die drinking milk? The cow fell on her.
A Redhead