Categories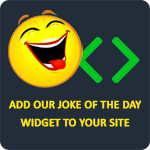 A blonde and a redhead have a ranch. They have just lost their bull. The women need to buy another, but only have $500. The redhead tells the blonde, "I will go to the market and see if I can find one for under that amount. If I can, I will send you a telegram." She goes to the market and finds one for $499. Having only one dollar left, she goes to the telegraph office and finds out that it costs one dollar per word. She is stumped on how to tell the blonde to bring the truck and trailer. Finally, she tells the telegraph operator to send the word "comfortable." Skeptical, the operator asks, "How will she know to come with the trailer from just that word?" The redhead replies, "She's a blonde so she reads slow: 'Come for ta bull.'"
Anonymous
A blonde, out of money, and down on her luck after buying air at a real bargain, needed money desperately. To raise cash, she decided to kidnap a child and hold him for ransom. She went to the local playground, grabbed a kid randomly, took her behind a building, and told her, "I've kidnapped you." She then wrote a big note saying, "I've kidnapped your kid. Tomorrow morning, put $10,000 in a paper bag and leave it under the apple tree next to the slides, on the south side of the playground. Signed, A blonde." The blonde then pinned the note to the kid's shirt and sent him home to show it to his parents. The next morning, the blonde checked, and sure enough, a paper bag was sitting beneath the apple tree. The blonde looked in the bag and found the $10,000 with a note that said, "How could you do this to a fellow blonde?"
flypelican
A blonde really got tired of all blonde jokes and decided to hang herself in the bathroom. As she locked the door, she yelled at her husband, "I'm hanging myself because I'm tired of jokes about us blondes being stupid!" Her husband broke into the bathroom and saw his wife with a rope tied on her toe. The husband said, "I thought you were hanging yourself." She said, "Yes, I am!" The husband replied, "Usually when people hang themselves, they tie the rope around their neck, so why is yours tied on your toe?" She said, "I tried that, but I couldn't breathe."

small weed
Why did the blonde put her iPad in a blender? Because she wanted to make apple juice.
Anonymous
Did you hear about the blonde that got excited? She finished a jigsaw puzzle in six months, when the box said, "two to four years."
atiyatia