Categories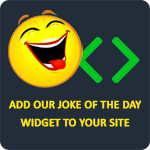 A blonde, out of money, and down on her luck after buying air at a real bargain, needed money desperately. To raise cash, she decided to kidnap a child and hold him for ransom. She went to the local playground, grabbed a kid randomly, took her behind a building, and told her, "I've kidnapped you." She then wrote a big note saying, "I've kidnapped your kid. Tomorrow morning, put $10,000 in a paper bag and leave it under the apple tree next to the slides, on the south side of the playground. Signed, A blonde." The blonde then pinned the note to the kid's shirt and sent him home to show it to his parents. The next morning, the blonde checked, and sure enough, a paper bag was sitting beneath the apple tree. The blonde looked in the bag and found the $10,000 with a note that said, "How could you do this to a fellow blonde?"
flypelican
Three blondes walk into a building. You'd think one of them would've seen it.....
Jeep96
How can you tell when a brunette is actually a blonde who dyes her hair? When she trips over the cordless phone.
catgirl517
"May I take your order?" the blonde waitress asked. "Yes, how do you prepare your chickens?" "Nothing special sir," she replied, "we just tell them straight out that theyre going to die."
liliqueen
A blonde is watching the news with her husband when the newscaster says, "Six Brazilian men die in a skydiving accident." The blonde starts crying to her husband, sobbing, "That's horrible!" Confused, he replies, "Yes Dear, it is sad, but they were skydiving, and there is always that risk involved." After a few minutes, the blonde, still sobbing, says, "How many is a Brazilian?"
jibyjacob41