Categories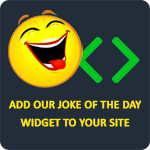 Why did the blonde put her iPad in a blender? Because she wanted to make apple juice.
Anonymous
A blonde goes to the doctor's and find out she is pregnant with twins. She starts crying and the doctor asks her what's wrong. She replies, "I know who the dad is for one of them but I don't know who the dad is for the other one!"
babygurl89
A police officer stops a blonde for speeding and asks if he could see her license. She replied in a huff, "I wish you guys could get your act together. Just yesterday you take away my license and then today you expect me to show it to you."
TheLaughFactory
Once upon a time a blonde was swimming in the river. A man went up to her and asked, "Why are you doing this? The blonde said, "I'm washing my clothes. Is there a problem?" The man said, "Why don't you try a washing machine? The blonde replied, "I feel dizzy in the washing machine!"
amirbabaie
A brunette and blonde are walking in the park when the brunette says, "Aw, look at the dead birdie." The blonde looks up and says, "Where?"
Anonymous