Categories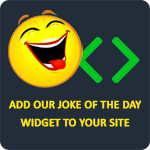 A science teacher tells his class, "Oxygen is a must for breathing and life. It was discovered in 1773." A blonde student responds, "Thank God I was born after 1773! Otherwise I would have died without it."
mohdreza
Why did the blonde tip toe near the medicine cabinet? Because she didn't want to wake the sleeping pills!!
Ur2010cowvoys
A blonde goes to the doctor's and find out she is pregnant with twins. She starts crying and the doctor asks her what's wrong. She replies, "I know who the dad is for one of them but I don't know who the dad is for the other one!"
babygurl89
A police officer stops a blonde for speeding and asks if he could see her license. She replied in a huff, "I wish you guys could get your act together. Just yesterday you take away my license and then today you expect me to show it to you."
TheLaughFactory
A brunette goes into a doctor's office and says that her body hurts wherever she touches it. "Impossible," says the doctor. "Show me." She takes her finger, presses on her elbow, and screams in agony. She pushes her knee and screams, pushes her ankle and screams, and so it goes on; everywhere she touches makes her scream with pain. The doctor says, "You're not really a brunette are you?" She says, "No, I dyed my hair. I'm naturally blonde." "I thought so," he says. "Your finger is broken."
A Blonde