Categories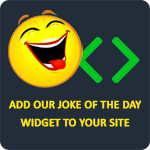 Teacher: "Name a bird with wings but can't fly."
Student: "A dead bird, sir."
Raiyan Rahman
A man needed a horse, so he went to a temple and got one. Before he left, the priest told him that it was a special horse. In order to make the horse go, you say, "Thank God," and for it to stop you say, "Amen." So the man left, and a few minutes later he dozed off on his horse. Hours later, he woke up and his horse was racing him towards the edge of a cliff. Just in time, he shouted "Amen!" and the horse stopped a few inches from the edge. "Whew," said the man, "thank God!"
moe112
Q: Why do bunnies have soft sex?
A: They have cotton balls.
TheLaughFactory
Two fish are in a tank. One turns to the other and says, "Hey, do you know how to drive this thing?"
Anonymous
Why can't Miss Piggy count to 100? Because when she gets to 69 she has a frog in her throat.
coolwatters