Categories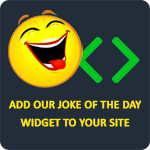 Why did the turkey cross the road? Because he wasn't a chicken.
bob
Teacher: "Name a bird with wings but can't fly."
Student: "A dead bird, sir."
Raiyan Rahman
Q: What do you call a rabbit that has fleas?
A: Bugs bunny.
sonic luaghs120
Q: Why did the dinosaur cross the road?
A: Chickens didn't exist yet.
Riki Relet
Q: Why do bunnies have soft sex?
A: They have cotton balls.
TheLaughFactory