Categories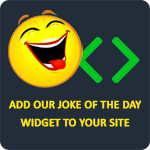 A priest, a minister, and a rabbi want to see who's best at his job. So they each go into the woods, find a bear, and attempt to convert it. Later they get together. The priest begins: "When I found the bear, I read to him from the Catechism and sprinkled him with holy water. Next week is his first communion." "I found a bear by the stream," says the minister, "and preached God's holy word. The bear was so mesmerized that he let me baptize him." They both look down at the rabbi, who is lying on a gurney in a body cast. "Looking back," he says, "maybe I shouldn't have started with the circumcision."
TheLaughFactory
Why can't Miss Piggy count to 100? Because when she gets to 69 she has a frog in her throat.
coolwatters
Q: Why do bunnies have soft sex?
A: They have cotton balls.
TheLaughFactory
A man is fishing and he catches a crocodile. The crocodile tells him, "Please let me go! I'll grant you any wish you desire." The man says, "Okay, I wish my penis could touch the ground." The crocodile then bites his legs off.
Anonymous
Did you know that dolphins are so smart that within a few weeks of captivity, they can train people to stand on the edge of their pool and throw them fish?
Anonymous