Categories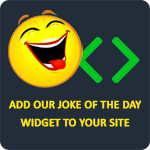 Q: What do you call a rabbit that has fleas?
A: Bugs bunny.
sonic luaghs120
Q: What's the difference between a cat and a complex sentence?
A: A cat has claws at the end of its paws and a complex sentence has a pause at the end of its clause.
Anonymous
Why did the chicken cross the playground? To get to the other slide!!
My step dad
Q: Why did the dinosaur cross the road?
A: Chickens didn't exist yet.
Riki Relet
A priest, a minister, and a rabbi want to see who's best at his job. So they each go into the woods, find a bear, and attempt to convert it. Later they get together. The priest begins: "When I found the bear, I read to him from the Catechism and sprinkled him with holy water. Next week is his first communion." "I found a bear by the stream," says the minister, "and preached God's holy word. The bear was so mesmerized that he let me baptize him." They both look down at the rabbi, who is lying on a gurney in a body cast. "Looking back," he says, "maybe I shouldn't have started with the circumcision."
TheLaughFactory