Categories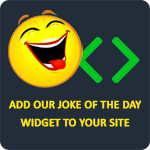 A boy with a monkey on his shoulder was walking down the road when he passed a policeman who said, "Now, now young lad, I think you had better take that monkey the zoo." The next day, the boy was walking down the road with the monkey on his shoulder again, when he passed the same policeman. The policeman said, "Hey there, I thought I told you to take that money to the zoo!" The boy answered, "I did! Today I'm taking him to the cinema."
Anonymous
A priest, a minister, and a rabbi want to see who's best at his job. So they each go into the woods, find a bear, and attempt to convert it. Later they get together. The priest begins: "When I found the bear, I read to him from the Catechism and sprinkled him with holy water. Next week is his first communion." "I found a bear by the stream," says the minister, "and preached God's holy word. The bear was so mesmerized that he let me baptize him." They both look down at the rabbi, who is lying on a gurney in a body cast. "Looking back," he says, "maybe I shouldn't have started with the circumcision."
TheLaughFactory
A magician worked on a cruise ship in the Caribbean. The audience would be different each week, so the magician did the same tricks each week. However, there was a problem, the captain's parrot saw the shows each week and began to understand how the magician did every trick. Once he understood, he started shouting out the secrets in the middle of the show, "Look, it's not the same hat." "Look, he is hiding the flowers under the table." "Hey, why are all the cards the Ace of Spades?" The magician was furious but couldn't do anything, it was, after all, the captain's parrot. One day, the ship had an accident and sank. The magician found himself with the parrot, adrift on a piece of wood, in the middle of the ocean. They stared at each other with hatred, but did not utter a word. This went on for a day, then another, and another. Finally, after a week, the parrot said, "Okay, I give up. Where the heck is the boat?"
Axeman
Q: What's the difference between a cat and a complex sentence?
A: A cat has claws at the end of its paws and a complex sentence has a pause at the end of its clause.
Anonymous
Why did the chicken cross the playground? To get to the other slide!!
My step dad