Categories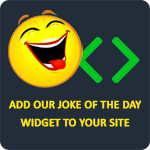 Q: Why do birds fly South for the winter?
A: It's too far to walk.
TheLaughFactory
What's invisible and smells like carrots? Rabbit farts.
garychatterton
A baby snake asked it's mom, "Mommy are we poisonous?" The mother snake responded, "Yes honey, but why do you want to know?" The baby snake responded, "Because I just bit myself..."
nimabeni
You are on a horse, galloping at a constant speed. On your right side is a sharp drop off, and on your left side is an elephant traveling at the same speed as you. Directly in front of you is another galloping horse but your horse is unable to overtake it. Behind you is a lion running at the same speed as you and the horse in front of you. What must you do to safely get out of this highly dangerous situation? Get your drunk ass off the merry-go-round!
Anonymous
Q: Why do seagulls fly over the sea? A: Because if they flew over the bay they'd be bagels.
Anonymous