Categories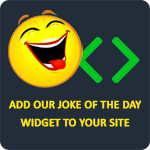 A priest, a minister, and a rabbi want to see who's best at his job. So they each go into the woods, find a bear, and attempt to convert it. Later they get together. The priest begins: "When I found the bear, I read to him from the Catechism and sprinkled him with holy water. Next week is his first communion." "I found a bear by the stream," says the minister, "and preached God's holy word. The bear was so mesmerized that he let me baptize him." They both look down at the rabbi, who is lying on a gurney in a body cast. "Looking back," he says, "maybe I shouldn't have started with the circumcision."
TheLaughFactory
Why did the chicken cross the playground? To get to the other slide!!
My step dad
Two nuns from Ireland come to tour New York City. Before they come, they hear that Americans eat dogs, so they both agree to try it when they arrive. As they're walking around New York, they hear, "Hot Dogs! Get your hot dogs!" They rush over to get one! As the first nun opens hers, her face turns white and she gasps, "What part did you get?!"
mway0030
A chicken walks into a library, goes up to a librarian and says, "Book book book." The librarian decides that the chicken wants a book so he gives the chicken a book and the chicken walks away. About ten minutes later the chicken comes back with the book, looking a bit agitated, saying, "Book book book." The librarian decides the chicken wants another book so he takes the old book back and gives the chicken another book. The chicken walks out the door. Ten minutes later the chicken comes back again, very agitated, saying, "Book book book!" so quickly it almost sounds like one word. The chicken puts the book on the librarians desk and looks up - waiting for another book. This time the librarian gives the chicken another book and decides that something weird is happening. He follows the chicken out the door and into the park, all the way to the pond. In the pond is a frog sitting on a lily pad. The chicken gives the book to the the frog, who then says, "Reddit, reddit."
Under41
A panda walks into a bar, sits down, and orders a sandwich. He eats, pulls out a gun, and shoots the waiter dead. As the panda stands up to go, the bartender shouts, "Hey! Where are you going? You just shot my waiter and you didn't pay for the food!" The panda yells back, "Hey man, I'm a panda. Look it up!" The bartender opens his dictionary to panda, "A tree climbing mammal of Asian origin, characterized by distinct black and white coloring. Eats, shoots, and leaves."
chinie