Categories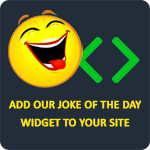 Why can't Miss Piggy count to 100? Because when she gets to 69 she has a frog in her throat.
coolwatters
A man needed a horse, so he went to a temple and got one. Before he left, the priest told him that it was a special horse. In order to make the horse go, you say, "Thank God," and for it to stop you say, "Amen." So the man left, and a few minutes later he dozed off on his horse. Hours later, he woke up and his horse was racing him towards the edge of a cliff. Just in time, he shouted "Amen!" and the horse stopped a few inches from the edge. "Whew," said the man, "thank God!"
moe112
A boy with a monkey on his shoulder was walking down the road when he passed a policeman who said, "Now, now young lad, I think you had better take that monkey the zoo." The next day, the boy was walking down the road with the monkey on his shoulder again, when he passed the same policeman. The policeman said, "Hey there, I thought I told you to take that money to the zoo!" The boy answered, "I did! Today I'm taking him to the cinema."
Anonymous
A man is fishing and he catches a crocodile. The crocodile tells him, "Please let me go! I'll grant you any wish you desire." The man says, "Okay, I wish my penis could touch the ground." The crocodile then bites his legs off.
Anonymous
Did you know that dolphins are so smart that within a few weeks of captivity, they can train people to stand on the edge of their pool and throw them fish?
Anonymous