Categories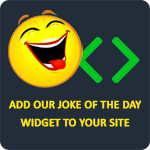 Late one night a burglar broke into a house and while he was sneaking around he heard a voice say, "Jesús is watching you." He looked around and saw nothing. He kept on creeping and again heard, "Jesús is watching you." In a dark corner, he saw a cage with a parrot inside. The burglar asked the parrot, "Was it you who said Jesús is watching me" The parrot replied, "Yes." Relieved, the burglar asked, "What is your name?" The parrot said, "Clarence." The burglar said, "That's a stupid name for a parrot. What idiot named you Clarence?" The parrot answered, "The same idiot that named the rottweiler Jesús."
Mysteryguy9871
THREE TREES AND A WOODPECKER
Two tall trees, a birch and a beech, are growing in the woods. A small tree begins to grow between them, and the beech says to the birch, "Is that a son of a beech or a son of a birch?" The birch says he cannot tell, but just then a woodpecker lands on the sapling.

The birch says, "Woodpecker, you are a tree expert. Can you tell if that is a son of a beech or a son of a birch?"

The woodpecker takes a taste of the small tree and replies, "It is neither a son of a beech nor a son of a birch, It is, however, the best piece of ash I have ever poked my pecker into."

Now wipe that smile off your face.

Muddy1
Q: What do you call a pig that does karate?
A: A pork chop.
TheLaughFactory
Q: Why did the witches' team lose the baseball game?
A: Their bats flew away.
sanchie
How did the blonde try to kill the bird?? She threw it off a cliff.
ajm2002