Categories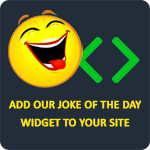 Q: What do you call a pig that does karate?
A: A pork chop.
TheLaughFactory
Why can't Miss Piggy count to 100? Because when she gets to 69 she has a frog in her throat.
coolwatters
How did the blonde try to kill the bird?? She threw it off a cliff.
ajm2002
Two fish are in a tank. One turns to the other and says, "Hey, do you know how to drive this thing?"
Anonymous
A man is fishing and he catches a crocodile. The crocodile tells him, "Please let me go! I'll grant you any wish you desire." The man says, "Okay, I wish my penis could touch the ground." The crocodile then bites his legs off.
Anonymous