Categories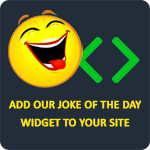 A boy is selling fish on a corner. To get his customers' attention, he is yelling, "Dam fish for sale! Get your dam fish here!" A pastor hears this and asks, "Why are you calling them 'dam fish.'" The boy responds, "Because I caught these fish at the local dam." The pastor buys a couple fish, takes them home to his wife, and asks her to cook the dam fish. The wife responds surprised, "I didn't know it was acceptable for a preacher to speak that way." He explains to her why they are dam fish. Later at the dinner table, he asks his son to pass the dam fish. He responds, "That's the spirit, Dad! Now pass the f*cking potatoes!"
bandajoey92
Q: How do you count cows?
A: With a cowculator.
Anonymous
You are on a horse, galloping at a constant speed. On your right side is a sharp drop off, and on your left side is an elephant traveling at the same speed as you. Directly in front of you is another galloping horse but your horse is unable to overtake it. Behind you is a lion running at the same speed as you and the horse in front of you. What must you do to safely get out of this highly dangerous situation? Get your drunk ass off the merry-go-round!
Anonymous
Late one night a burglar broke into a house and while he was sneaking around he heard a voice say, "Jesús is watching you." He looked around and saw nothing. He kept on creeping and again heard, "Jesús is watching you." In a dark corner, he saw a cage with a parrot inside. The burglar asked the parrot, "Was it you who said Jesús is watching me" The parrot replied, "Yes." Relieved, the burglar asked, "What is your name?" The parrot said, "Clarence." The burglar said, "That's a stupid name for a parrot. What idiot named you Clarence?" The parrot answered, "The same idiot that named the rottweiler Jesús."
Mysteryguy9871
Q: What do you call a pig that does karate?
A: A pork chop.
TheLaughFactory