Categories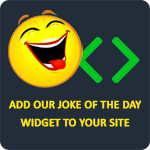 You are on a horse, galloping at a constant speed. On your right side is a sharp drop off, and on your left side is an elephant traveling at the same speed as you. Directly in front of you is another galloping horse but your horse is unable to overtake it. Behind you is a lion running at the same speed as you and the horse in front of you. What must you do to safely get out of this highly dangerous situation? Get your drunk ass off the merry-go-round!
Anonymous
Q: What do you call a pig that does karate?
A: A pork chop.
TheLaughFactory
THREE TREES AND A WOODPECKER
Two tall trees, a birch and a beech, are growing in the woods. A small tree begins to grow between them, and the beech says to the birch, "Is that a son of a beech or a son of a birch?" The birch says he cannot tell, but just then a woodpecker lands on the sapling.

The birch says, "Woodpecker, you are a tree expert. Can you tell if that is a son of a beech or a son of a birch?"

The woodpecker takes a taste of the small tree and replies, "It is neither a son of a beech nor a son of a birch, It is, however, the best piece of ash I have ever poked my pecker into."

Now wipe that smile off your face.

Muddy1
Why can't Miss Piggy count to 100? Because when she gets to 69 she has a frog in her throat.
coolwatters
How did the blonde try to kill the bird?? She threw it off a cliff.
ajm2002