Joe Sib - Hassle
Don't ask to take Joe Sib anywhere. For him, it's just a full hassle.
Joe Sib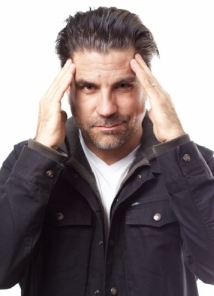 Joe Sib, founder and co-conspirator of SideOneDummy Records for over twenty years has quickly climbed up the ranks of the comedy scene. In 2011 his nationally acclaimed, "California Calling: Growing up Punk," solidified his success as comedic storyteller. In a twist of irony, his tales of youthful rebellion and irritating his own parents now serve his audience a blend of karmic stand up comedy as he attempts to navigate his own role as a father of two. In 2014, Joe launched the monthly SideOneDummy Storytellers show in Hollywood. He has performed at the SF Sketchfest, Bridgetown Comedy Festival, Fun Fun Fun Fest, FYF Fest, the Laugh Factory and other LA comedy clubs. When he's not lamenting his lost youth or fatherhood, Joe hosts the Complete Control radio show on 98.7FM in Los Angeles and nationally select cities.
SORRY, CONTENT ACCESS RESTRICTED
This video contains TV-MA rated content. To access this video, you must register, provide your birthdate, and opt-in to receiving TV-MA rated content
This video is only available in an uncensored version. To access this video, you must register, provide your birth date, and opt-in to receiving uncensored content.
Cancel