Aries Spears - Customer Service
Aries Spears loves white customer service people.
Aries Spears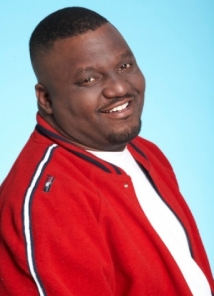 Ever since Chicago native Aries Spears was 14 years old, he has been a force to be reckoned with in the comedy scene throughout America. His quick wit, charisma, and ferociously aggressive style of comedy have earned him critical acclaim, high accolades, and above all, a busy schedule.

From being a regular on Fox's MADtv, starring in feature films, appearing on a number of national talk shows, and continually touring the country with his stand up, Spears' talents are becoming recognized and appreciated throughout the entertainment industry.

As a principal cast member on Fox's hit sketch comedy show MADtv, Spears brought a fresh, hip style to the already edgy program from the third through the 10th season. The producers made full use of many of Spears' talents by calling on him frequently, to create new hilarious characters and write sketches. Some of the many recurring characters that Spears is famous for on the show include Belma Buttons, Bill Cosby, Jesse Jackson, Mike Tyson, Walter, who is a crackhead, Reggie from the Erascists, Dollar Bill Montgomery, Shaquille O'Neal, the Klumps, Michael Jackson, Sisqo, Evander Holyfield, El Diablo Negro, and more. Spears also boasts a number of uproarious impersonations on the show that include James Brown, Al Pacino, and his childhood idol, Eddie Murphy. The Spears branded sketch "Talkin' American" was MADtv's most popular bit, keeping fans tuned in and boosting its ratings impressively on Saturday night.

Spears has also found great success in the world of feature films. At the age of 17, after being spotted in a comedy club, Spears landed a part in the movie Home of Angels, which also starred Abe Vigoda and Sherman Helmsley, but never saw a theatrical release. He then appeared in Out-of-Sync, and portrayed Red Foxx in Warner Bros.' Why Do Fools Fall in Love. In addition, Spears starred alongside John Leguizamo in TriStar's The Pest, and delivered his most notable performance to date as Cuba Gooding Jr.'s brother in Columbia's blockbuster hit Jerry Maguire.

Spears was born on April 3, 1975, in Chicago but grew up in New Jersey. He remembers at the young age of six being the funnyman of the household, and impersonating family members at the dinner table during holidays. By age 14, Spears was belting out his fresh stylings in front of paying audiences at local clubs around his hometown. Shortly thereafter, he appeared on Russell Simmons' Def Comedy Jam on HBO and Showtime at the Apollo. The word was out about the prodigal superstar from then on, and in 1992, Spears moved to Los Angeles. He quickly landed a recurring role on NBC's A Different World and was signed to a huge development deal at one of the major television studios. The following year, Spears found himself starring in the short-lived CBS series South of Sunset, with former Eagles guitarist Glenn Frey. Although the series didn't last long, it did not discourage other networks from tapping Spears' talents for their projects, as he soon appeared in Crosstown Traffic and The Adventures of Brisco County Jr. for Fox. Ultimately, Spears' fierce momentum landed him on MADtv as a series regular, where he thrived for eight seasons.

Spears continues to spread his comedic wings with the development of feature film projects, which he is currently involved in writing. He is presently developing a feature project based on an original character that he created on MADtv, as well as a thriller about a young black man immersed in hip-hop culture. Additionally, Spears has made appearances on many talk shows, including Loveline, Vibe, The Keenen Ivory Wayans Show, Soul Train, and Late Friday. He has also lent his voice to an animated character on C-Bear and Jamal and had a recurring stint on Fox's The Best Damn Sports Show Period, where he created some of the show's funniest characters during his short time there.

Spears maintains a strong connection to his African roots and is involved in many charitable events, including a number of organizations that help abused women. He feels blessed to have been able to achieve everything that he has, but he in no way intends on stopping there. Given the extreme growing success rate of action comedies coming out of Hollywood, it's safe to say that Spears will be in demand for quite some time.
Aries Spears COMEDY VIDEOS
SORRY, CONTENT ACCESS RESTRICTED
This video contains TV-MA rated content. To access this video, you must register, provide your birthdate, and opt-in to receiving TV-MA rated content
This video is only available in an uncensored version. To access this video, you must register, provide your birth date, and opt-in to receiving uncensored content.
Cancel